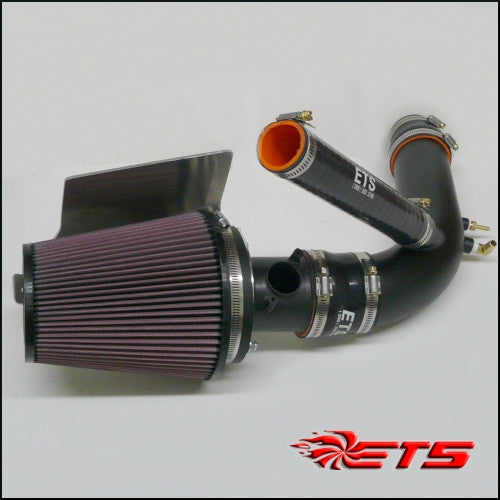 ETS Intake Kit evo X
The ETS MAF Intake Includes a huge 5" inlet K+N air filter which feeds the intake pipe via the ETS EVO X MAF adapter which is milled on the ETS lathe for the perfect transition to the inlet diameter of the MAF sensor tube.  With a built in dowel pin and precise inner diameter to make a 100% seal with the rubber grommet, this piece installs and fits as if it had a Mitsubishi part number.  The system is then braced to the chassis with an aluminum bracket to ensure no movement or vibration.  A single-piece mandrel bent 3" intake pipe makes the connection between the MAF and turbo with a smooth transition recirculation fitting for an easy connection to the BOV discharge.  
The ETS Mitsubishi Evolution X Intake includes a 5.0" velocity stack making it the largest intake on the market.  This intake has been proven to gain over 56whp when used with a manual boost controller at 22psi. 
Features:
5" KN Filter

ETS Milled MAF Adapter

Perfrect Transition From Adapter To MAF

Blow Off Valve Recirculation Tube

Includes heat shield to prevent idle surge.

BOV Vacuum Line

All Couplers, Clamps and Hardware.

+56whp when used with a boost controller @ 22psi

Weight: 3lbs
*Note: Polished option takes 1 - 2 weeks to complete and comes in an award winning show room polish