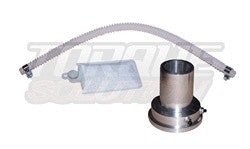 Torque Solution EVO X Fuel Pump Holder (evo X)
Run out of Fuel on your Evo X and need more fuel pump?? Here is the answer to your fuel issues..

We have designed a 6061 Billet Fuel Pump Holder to accept Walbro 255lph pumps along with Aeromotive, Deatschwerks, and FullBlown 340lph Pumps..

The 340LPH fuel pumps will give you enough fuel to make over 500whp on your Evo X w/ E85. Plenty for stock motor applications.. These are all E85 Compatible..
This kit Includes the Following: Pump Holder, Flexible Hose, Filter & Set Screws to hold pump in place..